As I mentioned in a recent episode of the
Book Guys Show podcast
, I have an embarrassing number of books in progress. Here they are, and the reasons why:
The Maze
, by Jason Brannon. Approximately 45% complete. I have been tasked by Paeter Frandsen of
Spirit Blade Underground podcast
to review this book. Another person submitted a review already, but he is holding back to he gets mine, and will play them in the same episode as a "dueling review" segment. So reading this one on the Nook is a top reading priority.
Elizabeth The First Wife
, by Lian Dolan. Approximately 30% complete. We spoke with Lian on episode 079 of the Book Guys Show, and I started reading it, to prepare for the interview. As I have
written before
, I am a big fan of Lian's writing.
The Shambling Guide to New York City
, by Mur Lafferty. We spoke with Mur on episode 080 of the Book Guys Show, and I started reading it, to prepare for the interview. Teaser for the book is
here.
Bread & Wine: Readings for Lent and Easter
, by various. Approximately 85% complete. This is a devotional I started during Lent, but when I needed
emergency eye surgery
, my wife began reading it to me. Even though my eyesight has (mostly) returned, my wife and I enjoyed reading it so much that I don't read it alone. About once a week, my wife and I find a chance for her to read part to me.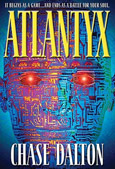 Atlantyx
, by Chase Dalton. Approximately 40% complete. I picked this one up from a library sale at least 5 years ago, and my daughter read it right away (and she thought it was OK), and it has sat as part of my book pile ever since. It has always been on the "gotta read this one soon" list, but it wasn't until a few weeks ago that I actually decided to read it.
Callahan's Secret
, by Spider Robinson. Approximately 60% complete. This is the audiobook I am currently working on, after knocking out
Karen Kingsbury's Take Four
last week. I have read the first 2 books in this series, and enjoy the lightness of the language combined with the seriousness of of the topics.
The Black Prism
, by Brent Weeks. Approximately 7% complete. This is a large hardcover (600+ pages), and I am going to review it eventually for Spirit Blade Underground, but that is down the road a few months, so I am taking it slow.
Faith of the Fallen
, by Terry Goodkind. Approximately 20% complete. My daughter and I are listening to this together, but it has been a while since we made any progress.