All-Star Western,
issues 13-16. Written by Justin Gray & Jimmy Palmiotti, with art by Moritat. DC Comics, cover-dated October 2012 - January 2013.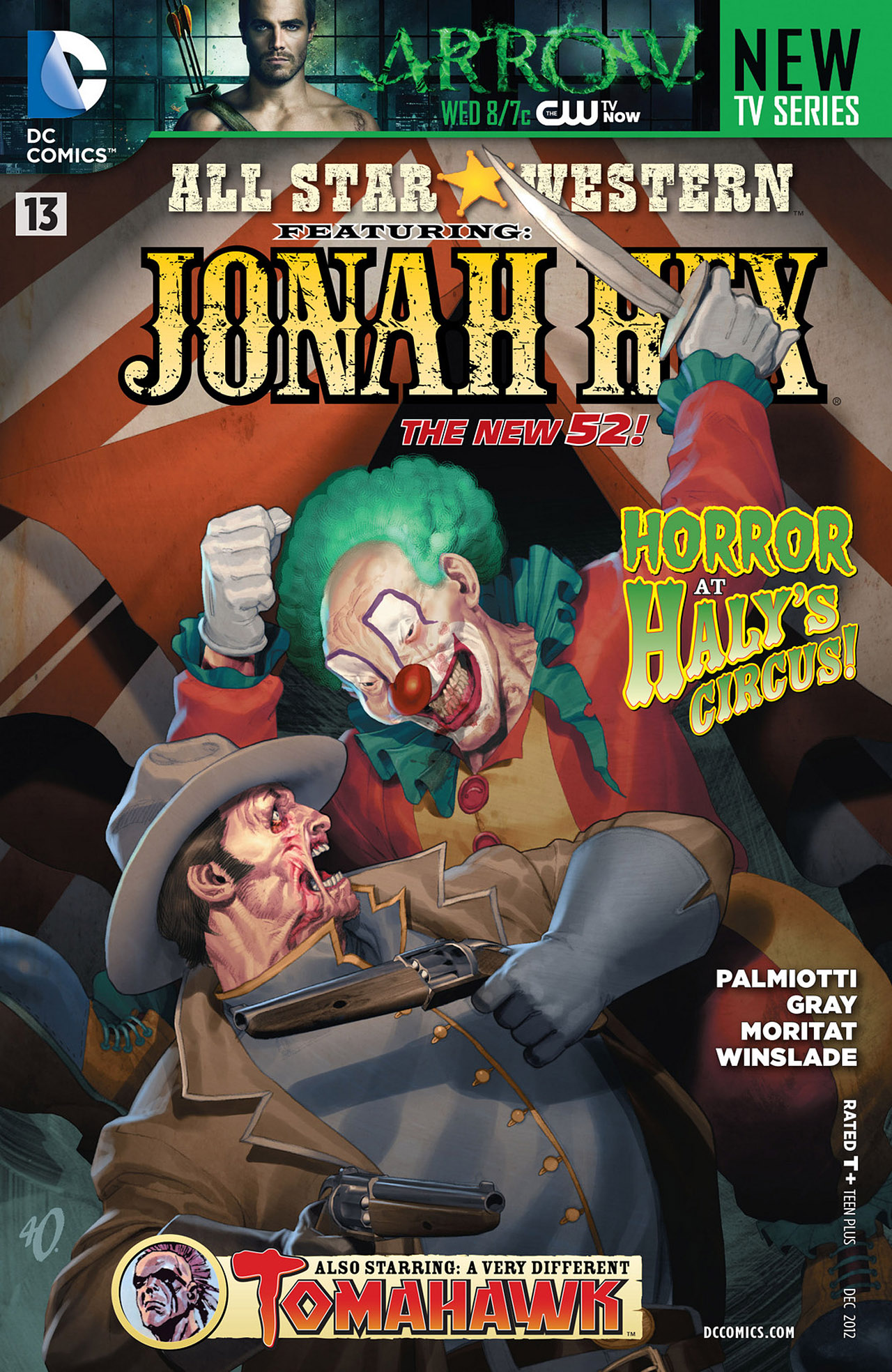 One of the fun things about placing Jonah Hex (mostly) in Gotham City of the 1880s is that we meet many families who we later run across in modern-day Batman stories. We have Cobblepots and Waynes, and in issue #13, we meet Haly's Circus, later famous for their trapeze act, The Flying Graysons We meet a homicidal clown, whose self-awareness and psychological insights seem much more 21st century than 19th, but that is the first time in this run I've noted such an anachronism.
This issue intersects with a Jeckyll-Hyde storyline, leading into "The Black Diamond Probability." The search for Jeckyl's formula takes us to Chinatown, where the Barbary Ghost is operating. Her origin story was one of the back-up features in earlier issues. I enjoy this type of continuity, and it was something I was hoping for in DC's "New 52" initiative. The Barbary Ghosts's backstory made for a great opportunity to (at least for the time being) write Talullah Black out of the series, restoring the book's status quo of Jonah Hex and Dr. Amadeus Arkham in the lead roles.
Arkham is infected by the Jekyll potion, which takes him out of the story for an issue and a half. It also allows him to be on the receiving end of "modern" psychology, which I will assume plays into future stories. This allows Hex to single-handedly (with the help of a cute redheaded nurse) solve the Jeckyll / Black Diamond mystery.
These issues also contain backups of Tomahawk, the four parts of which make up a complete story. These are written also by Gray & Palmiotti, with art chores performed by Phil Winslade.
This story takes place in the early days of American expansion, telling the story from the perspective of the heroic Indian. It has a much more colorful palate than the main stories do, making them stand out (in the positive way) from the rest of the book.
The covers on each of these four issues are eye-catching, and three of them retell present stylized versions of scenes from the book.
One of my pet peeves is comic book covers that don't do this. All in all, this series continues to be my favorite current book.
Source: My daughter and I are purchasing these regularly from various local comic shops.