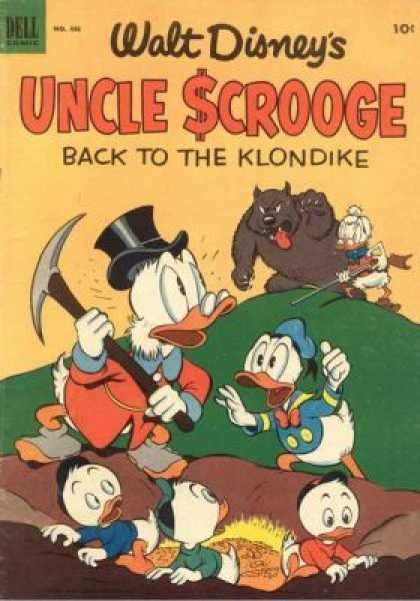 Book 15:
Uncle Scrooge: Only A Poor Old Man
, by Carl Barks. Hardcover collection of six comic books, from 1952-1954.
This is actually the second Scrooge collection released by Fantagraphics, but the first that I've seen on the shelves, and I didn't think the continuity conundrum was such that that would be an issue for understanding the characters and plot arcs. This collects 6 comics from 1952 to 1954, three from the "Four Color" title and three from the "Uncle Scrooge" title.
A few things surprised me about the collection and the stories. I confess that Carl Banks' contributions to the field of comics is a bit of a "blind spot" for me, and biographies and analysis articles in the back matter of this collection helped round out my knowledge of Banks, Scrooge, and the rest of the cast. When the Comic Awards Hall of Fame inducted its first 3 members back in 1987, Carl Banks was in that first class, joining Jack Kirby and Will Eisner.
The art was surprisingly good, very crisp and clean. A few shots particular of Donald running straight at the camera were better than the vast majority of superhero flying shots I've seen. The perspective is perfect, and that is a difficult angle to portray. Banks' ability to both script and draw these stories is an impressive feat.
The variety of story length helped these stories be a fun read. There are a number of one-page gags, a few five- or ten- page stories, and couple of 22-pagers, and four 32-page stories. The variety of lengths gave Banks a chance to tell different types of stories. The single-page strips tend to be sight-gags or word play, while the longer stories all have an epic sweep to them. Scrooge and his family Donald, Huey, Dewey, & Louie, travel to the Klondike, and to Hawaii, to Jamaica, and to the bottom of the ocean.
A single-trait character can be a struggle to portray, but there are nuances to Scrooge's miserly nature that Barks exploits to good effect. The Beagle Boys are the most common antagonist to Uncle Scrooge, although Donald and his three nephews are sometimes on that side, as well. More often than not, of course, they are helping Scrooge, earning every penny of the thirty cent hourly rate he offered.